I shop a lot with Amazon. A lot. – With few exceptions, I go to Amazon for 95% of my non-perishable purchases.
But for some things, I still like to have an in-person experience. These things include: TVs and monitors (for first hand viewing of image quality), audio gear (hearing is believing), furniture  and vehicles (for a sense of mass and aesthetic details that aren't easily translated in photos), home maintenance like lumber and yard care (due to bulk)  and shoes and clothes (for fit).
It is for the last of these: clothes – specifically: some jeans, that I found myself at J. C. Penney.
Now, people who care about fashion, most likely snort and turn up their nose at Penneys; but I've never been one to care very much about clothes nor branding. (A fact, I'm sure, is probably all too obvious for those who see me.) Penneys have always been a simple, affordable option. Unfortunately, increasingly, too many local brick and mortar shops have been failing in their value and Penneys has been on the same downward spiral.
This makes me sad, because I can appreciate the loss of local retail, even big-box retail to Amazon, but my shopping experience for jeans is surely an example of why  brick and mortar stores are getting their asses kicked.
The fundamental disappointment I encountered with Penneys was the lack of service. – Caused, by the store being short staffed. There was no one in sight in the mens' section, and I was left to find it by myself, and comb through the jeans for style and fit without an offer of help. Next: the dressing room was dingy and unkempt. The pincushion on the wall looked liked it hadn't been cleared for who knows how long. Other pins were littered on the floor.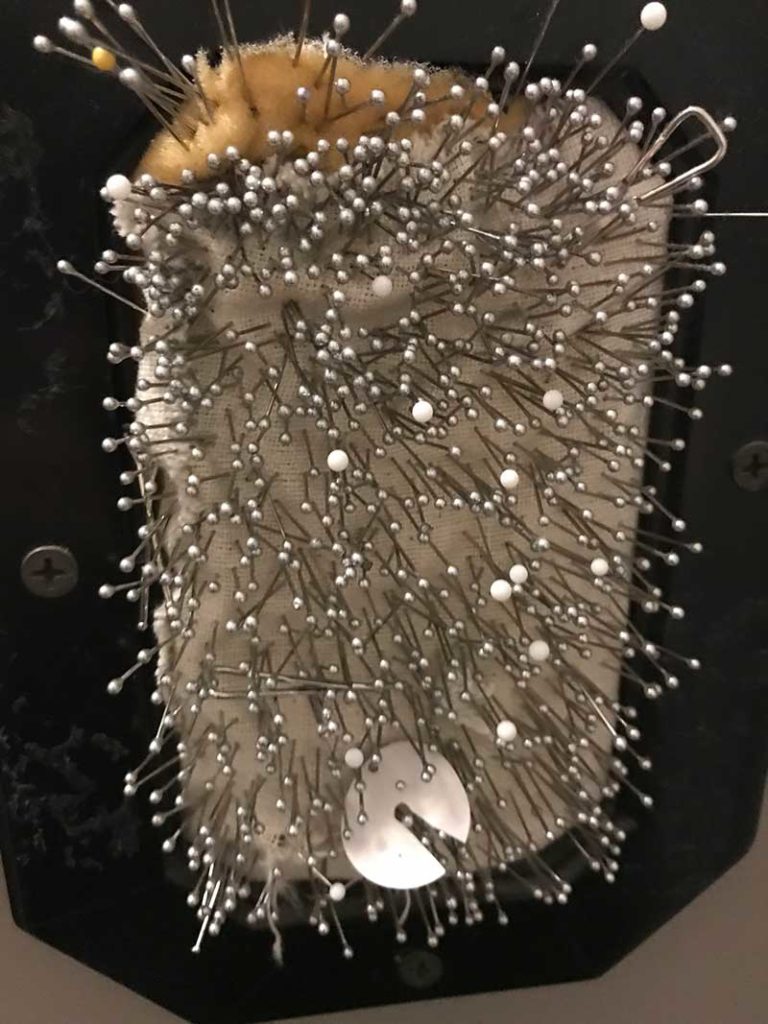 Finally, at checkout, the line was about four people deep, with a single clerk working to resolve a customer's problems, leaving me to wait for about 20 minutes to get rung out. And when they did tally my sale, the sales promotion didn't ring up correctly and I had to have it redone. (An error that I noticed: not the clerk.)
Now, I list these 'grievances', fully aware that they fall into the category of 'first-world-problems.' But that isn't my point. My point isn't that this isn't any kind of real suffering but rather: to highlight why I think stores like these are failing.
With Amazon, I could have saved myself a 30 minute drive to the mall.  (x 2 for return trip home.) – I could have shopped from my phone anywhere I was. With Amazon, I could have filtered and sorted my choices within seconds. With Amazon, I could have just as easily shopped for a Gummy Bear anatomy puzzle or a vinyl wall decal of an Asian businessperson. With Amazon, I could have checked-out with a click of a button.
Yes, with Amazon I would be waiting two days for them to arrive but 99.9% of the time: I can wait. So, the only real remaining shortcoming with Amazon is the hassle if I have to return a product.
But consistently, where Penneys should have shined: they failed – customer service.
I can't help but think that some CEO made a short-term decision to cut staff at Penneys to 'help the bottom line.' And I well imagine that having shown some operational savings, the CEO pulled their golden parachute and drifted away on a cloud of bonus money, leaving the company that much less prepared with a competitive advantage.
Amazon, on the other hand, has sacrificed short term profitability in order to master the world of retail.  This is why they will win.