Bigger is Better if You can Stand it
When I was a kid, the "cool" place to sit in a movie theater was in the very back row. As I got older, I realized that defeated much of the purpose of going to the movies: a larger than life BIG screen experience. By sitting at the back of the theater, one essentially makes the 35 foot screen equivalent to watching a 50 inch screen from ten feet away. You can hold up your hand and block out the screen if you want.
I'm now of the philosophy that to fully appreciate the movie going experience, the screen should be just shy of comfortably filling my peripheral vision.
So, it should be of no surprise that, as something of a home theater aficionado, I buy the highest quality big screen I can afford. Currently that means a 75″ 1080p Samsung Series 8 8000 that I bought a year or two ago. If I had my way, I'd have at least a 120″ TV.
I've also been working to upgrade my home theater speakers, which included transitioning to Definitive Technology speakers. Having tastes that exceed my budget, I haven't bought a full compliment yet but I did buy a Definitive Technology center speaker.
And here is where my 1st world problems start: my legacy Ikea TV stand (from the days when I 'only' owned a 65″ Sony Vega), is barely large enough for my Samsung, but more to the problem: it does not accommodate my center speaker, so I'm forced to sit my speaker in front of my TV. This is only barley tolerable when I'm watching a letter-boxed movie and the image isn't blocked by the speaker.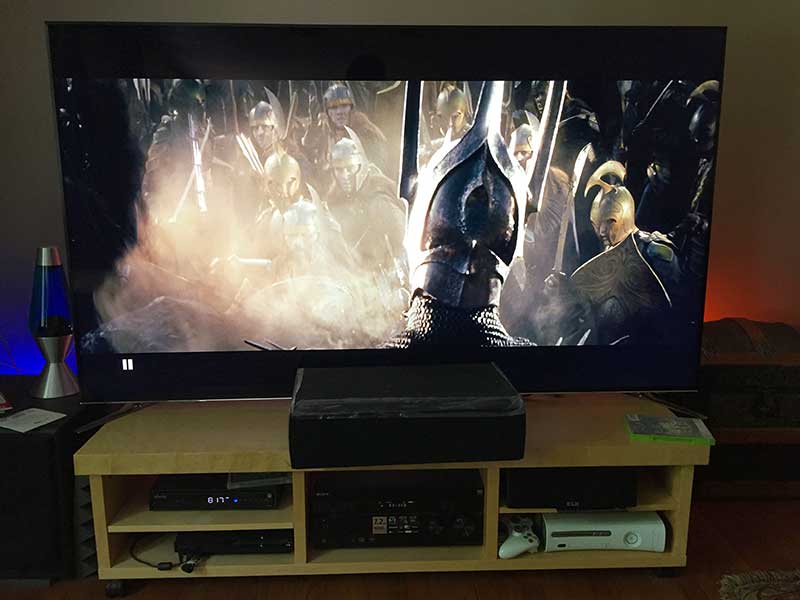 I'm not prepared to wall mount my TV or speaker for the time being, for various reasons, so this problem sent me on a hunt for a TV stand or entertainment center that would accommodate both my center speaker, components and TV without my image being blocked.
This issue is further exacerbated because my speaker not only fires sound forward, but up towards the ceiling as well, so I don't want to trap it inside a cabinet or under a shelf. So, I've spent a good bit of time trying to find an attractive solution and have been surprised to find that there are few good choices to accommodate TVs larger than 65″.
Where Have All the Really Big Screen 1080p TVs Gone?
My search took me both online and to brick and mortar stores like my local Best Buy, and it was here that I was surprised to find 65″ Ultra High Def TVs are now as cheap, or cheaper than my 75″ 1080p TV was a couple of years ago. Perhaps with the release of UHD Blu-Rays and some streaming content starting to be released, it will finally be worth buying an UHD TV. This was a new temptation and I started to fantasize about moving my 75″ TV to another room, thinking I might be able to forego the Ultra High Def and instead get a larger 1080 big screen.
So, I perused the TVs in Best Buy and then later, at home, online and to my dismay, I started to learn that big screen TVs – bigger than 65 inches, have started to disappear. My search finally lead me to this article "Where Have All the Really Big 1080p TVs Gone?" that explained the disappearance: Ultra HD happened. In terms of TV pricing, the race to the bottom has run its course; right now, manufacturers are now looking for reasons to charge more for their televisions, not less.
So, I'll probably be forced to commission a custom TV stand that fits my needs and I'll likely be making for UHD TVs to become both big and affordable.
Oh, how shall I ever survive?