Friends from work were aware that I had the privilege of seeing Bruce Springsteen from 'the pit' (now a great term BTW) a couple of weeks ago. During our lunch conversation, one of my friends said he wasn't interested. He doesn't like how Springsteen gets involved in politics; that he thinks artists and the ilk should keep their mouths shut about such things. And to be clear, my friend's argument wasn't with Springsteen's views (although I don't think it is a coincidence that he doesn't agree with them), his argument was: actors, musicians and the like should keep their mouths shut.
Springsteen opened with a beautiful rendition of 'New York Serenade' for his September 11th show in Pittsburgh. With no commentary he then proceeded to play a number of songs from his album, 'The Rising'. – Songs influenced by the events from 9/11.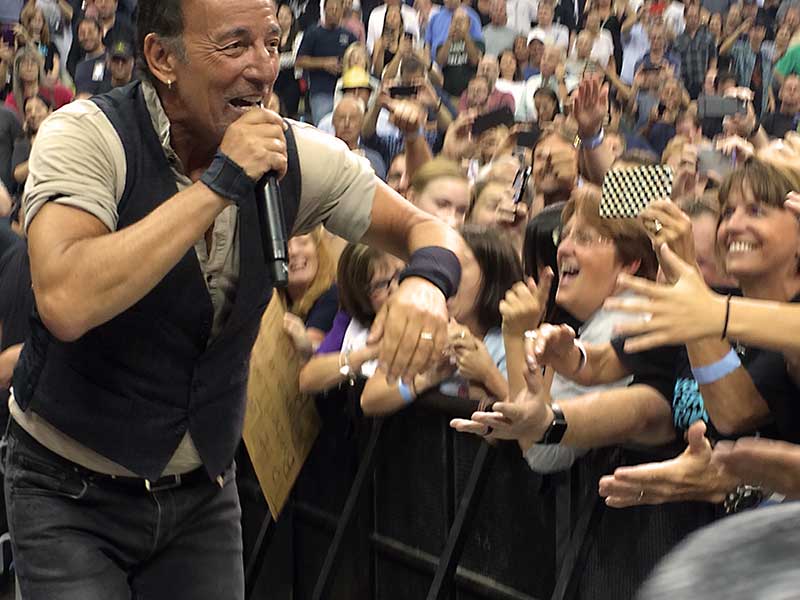 For those ignorant of the matter, they should understand that Springsteen is famous for telling stories and anecdotes during his show: many humors, some touching, others telling but few explicitly political. Still, during the nights performance he did have two choice words for Donald Trump.
But beyond that, he let the work speak for itself and I'm left to marvel how anyone should think that an artist shouldn't be involved in politics. I wonder how limited that would make all forms of art. By direct way of example, a significant portion of Springsteen's best work is political in nature.
That isn't to say that an artist is right because they are an artist, or famous, or both, nor does all art (or artist) need to be political but throughout history artists and philosophers are often the people who have helped highlight and elevate political discourse the most.
"Artists to my mind are the real architects of change, and not the political legislators who implement change after the fact. "

~ William S. Burroughs
I wish more of our society worked to be both informed and passionate about governance and if that means that Ted Nugent has a voice in the discussion: good. – I'll take my chances that, over time, the best ideas win out.